Professional Makeup Artist Serving Phoenix, AZ, the Entire Valley & Beyond
When you need a professional, polished look for your special event, I am the makeup artist for you. I have nearly 20 years of experience in the cosmetic industry. I love to create looks that are classic, timeless, and personal.
Whether you need a look for your editorial photoshoot, or the perfect wedding look for your big day, you want to be sure that you are under the care of someone with the proper knowledge and expertise. I will create a look that will help you make a lasting impression.
Personable and Friendly Wedding Makeup Artist for Your Most Important Event
When it comes to your special day you want to make sure that you have someone to provide a makeup look that will bring out your best features, and have you looking the best version of yourself. You need to have someone who knows how to keep your makeup looking flawless throughout the day, no matter what the weather, lighting, or festivities may bring. Most of all, you want someone who will make sure to enhance your natural beauty, with a look that suits your personality, style, and theme of your wedding.
I am a professional makeup artist that you can trust to bring out your natural beauty.
I have received the prestigious Best of Weddings from The Knot in 2021 and 2022. I have also received the Couple's Choice award from Wedding Wire in 2022.
I will take care of any and all aspects of your wedding day makeup. I offer makeup trials so we can discuss details of your day and execute the perfect look for you. Most importantly, I take time to get to know you! I love to create a fun and relaxing session, so you can be completely at ease and know that you are in the best of care.
Phoenix-based Makeup Artist and Hair Stylist for Photoshoots and Film Productions
Whether you are taking pictures for your engagement, graduation, anniversary, family photos, or for professional headshots, I'll provide the look you are after. I will consult you on what colors and styles would look best for your personal features, clothing, backgrounds, and lighting. I'll give you a look that will make you feel beautiful inside and out!
I also have experience creating makeup looks and hair styles for film productions as a key makeup artist. Contact me today for a consultation!
The list of makeup services I offer includes:
Makeup Application
Airbrush Makeup Application
Strip Lash Application
Lash Extension Application
Makeup Trials
On-site Makeup Application
Makeup Lessons
Hair Styling
And much, much more!
Contact me today to get started on your perfect makeup look!
See What My Clients Have Said!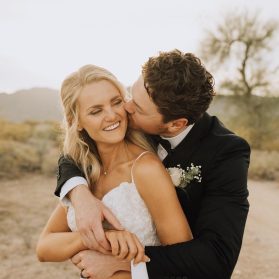 Stephanie is truly something else. She is the best balance of professional and friendly. She prioritized me as a bride and made sure I represented myself in the most "me" way possible for my wedding day. She exceeds in natural makeup and bringing out your natural features. If you want your partner to be sobbing as you walk down the aisle because you are the prettiest version of YOU, then she is your gal. I highly recommend. She by far was my favorite vendor.
Stephanie is the absolute best. She's done my makeup for various occasions for years, so I knew she was my only choice for my wedding. No matter what look you are going for, she will nail it. She made my retro glam dreams come true on my wedding day, and all my bridesmaids looked gorgeous.
I need my makeup done? Stephanie, she's always my first call. Stephanie will always be my go to for a big event she has been for over 4 years now, high school grad photos to senior grad photos! I remember the first time Stephanie did my make up she asked very detailed questions and I responded "I don't know" to probably every question, I just wanted something natural, and she absolutely knocked it out of the park with me giving her little to no direction! Every time she does my make up she exceeds my expectations. She makes me feel undeniably confident and that's all I could ever ask for in a makeup artist.
© 2023 Stephanie Nault. All Rights Reserved.